Why hire A Professional Cleaning Service For Your Home?
Why hire A Professional Cleaning Service For Your Home?
How long does it take you to clean your house? Almost forever right!
Keeping a clean home can be quite hectic and time consuming, so no matter how much you try, you'll never be able to completely get it right. Are these too relatable to you?
● A portion of the house is left unclean because you either get tired to finish or you have to attend to some other pressing things.
● You try to make a routine schedule for cleaning the house throughout the week but due to time limitation, a thorough cleaning isn't achieved and those portions of house we leave not cleaned can breed bacteria and germs that pose threats to our health.
● Let's say you made some time to clean, some tools needed to achieve a deep cleaning are crazy expensive!
Hiring WellSpring Cleaning Services to clean your home will relieve you of daily chores so you can make time for other important things and also saves you money. Entrusting the cleaning duties to our team comes with a lot of benefits. Let's consider some of such benefits.
A Healthy Air Indoors
Dust, allergens, pet dander, and other unhealthy contaminants build up over time, constantly circulated by HVAC systems. These we inhale and get exposed to certain health threats. A professional cleaning is important to keep your indoor air fresh and safe for inhaling.
Prevent Asthma attacks on Babies and Elderly
Avoid dust allergies and provide fresh air to breathe
Prevent runny nose and itchy eyes
WellSpring Cleaning Services gives your house a professional deep cleaning, rendering it dust free and a safe haven for your family.
Time For Yourself
Time with the family, friends and even to relax is important but if there is cleaning to be done then we can't make time for these:
When was the last time you meditated and not get bothered by the whirlwind of cleaning tasks you have to finish?
Breathe in, breathe out. Now you have time to safely do your yoga any time of the day!
Last minute dinner party? Nah, we got your place covered. Just worry about cooking instead!
Cleaning out your garage? Let us help you so you can just focus on choosing what to keep and what to discard instead of being buried under the bricks of whatnot.
Bathroom Stains? No worries, allow us to make it shine again!
Just enjoy the play dates with your kids and let us take care of what happens after.
Do what is more important to you while our professional cleaning team takes care of your house to render your space spotless and smelling wonderful. Enjoy your home as a peaceful place for rest and not some sort of a part time job. Take up some time to relax and save your strength for other productive things while we take care of making your home a sparkling environment.
Right Tools for Better Results
Cleaning without the right tools can be tiring and stressful. Scrubbing, mopping, dusting and and others can be made with ease to give a great result when the right tools are used. Leave all these to us and our deep cleaning equipment:
Carpets and Rugs
Air Duct
Drapes
Upholstered Furniture and Fixtures
Toilet Bowls, Sinks and Countertops
A scheduled professional cleaning within 4-6 months with the right tools will leave them in perfect condition. Some of these tools are quite expensive to purchase for the house and that's where our professional cleaning team come in to assist you so you save money. WellSpring Cleaning Services has all the tools to give your home a perfect clean up and to disinfect.
Event Ready Home
Once in a while we love to have family and friends around for a party after a stressful week. Imagine planning how the party will go and after sorting that out you remember there is a deep cleaning to do. These parties should not be stressful to you. Write these down and give us a call whenever any of these applies:
Thanksgiving, Christmas and Halloween Parties
Birthday and Anniversary Parties
"Just the weekend" regular dinner parties
"Let's celebrate because I just want to celebrate" parties
That romantic dinner with your partner you've been waiting for
Netflix and Game night with friends
Play dates for the kids
And whenever someone tells you that they will show up to your house the next day emergency
A professional cleaner can sort it out for you with the right tools, detergents and fragrances to make your home event ready to welcome your guests and make them feel at home! And yes, our professional cleaning team will be available to clean after your event so that you don't stress yourself after having some fan time!
Prevents Mold From Spreading
Remove all these in bathrooms and kitchens:
Bacteria
Mold
Fungi
Gastrointestinal viruses
These bacteria are difficult to get rid of and considering our working lifestyle, we get pressed with time for an in-depth cleaning. Although it is difficult to get rid of mold in the bathroom and kitchen completely, WellSpring Cleaning Services, with its professional team and deep cleaning tools, can get rid of all forms of bacteria to render the kitchen and bathroom germ-free anytime mold and other bacteria show up. 
Deeper Home Cleaning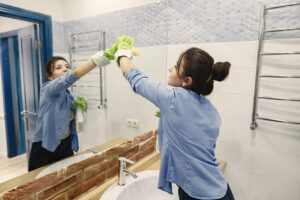 A cleaning service must have a record of leaving the entire house spotless and hygienic and that's what WellSpring Cleaning Services is all about! We do an exceptional work in the house including
Kitchen
Bathroom
Bedrooms
Baby's Room
Hallways
Garages
Stock rooms
Nooks
Crannies
And every other part of your house you want cleaned
Working with the best tools such as long dusters, vacuums, mops, and sponges including detergents and disinfectants, we reach out to every area of the house to clean and disinfect the entire house thoroughly leaving a sparkling and germ free house.
After taking into consideration the option of hiring a professional cleaner you may be wondering about a few things and would want some kind of assurance. Here are some questions and the right answers for you.
Do I really need a cleaning service?
Of course you do and WellSpring Cleaning Services is the best choice for you. Our specially trained professional team is what you need in your home to leave the house spotless. A sparkling in your hallway, kitchen, bathroom and bedroom. We give you value for your money with our services so don't look any further, WellSpring Cleaning Services
Are My Things Safe In The Hands Of A Professional Cleaning Service?
WellSpring Cleaning Services directly employs its staff rendering an assurance to our clients for the safety of their homes. Our employees are also bonded and insured giving our clients the maximum form of protection over our client's belongings. Our team is well trained to work with an exceptional precaution that none of your belongings get damaged.
If you are looking for a trusted professional cleaner to clean your home with a guaranteed safety, then look no further, schedule an appointment with WellSpring Cleaning Services Now!