5 TV Shows to Help You Clean Up This Fall!
Winter is approaching very quickly, and with the change of seasons comes the need to slow down a little, and snuggle in and cozy up a lot more! There's nothing better than relaxing in a clean and safe environment, which means now's a great time to tackle some of those cleaning projects you've been putting off all summer or (if we're being completely honest) all year!
Looking for a little motivation? Luckily you don't have to look further than the TV, phone or computer screen! There are a lot of good shows out there to encourage you to get up and clean. Here are 5 of our favorites shows/channels that will not only entertain you but that will also inspire you to declutter, clean and organize your space, and motivate you to live the best possible life you can! 
 

Tidying Up with Marie Kondo (Netflix)
Marie Kondo is a Japanese organizing consultant and the author of the New York Times best-selling book The Life-Changing Magic of Tidying Up: The Japanese Art of Decluttering and Organizing. Her book inspired millions of people across the globe to declutter and tidy their spaces by focusing on the things that bring them joy!
In her debut TV Show –Tidying Up with Marie Kondo – Kondo takes viewers along with her as she teaches her clients the KonMari method of mindfully decluttering their homes one joyful reflection at a time! It's a much-watch series for anyone wanting to put the philosophy of minimalism and decluttering into practice!
Kondo's folding and organizational skills are NEXT LEVEL, and her philosophy of encouraging people to appreciate and express gratitude for the things they own makes this show that much more special! Also, go ahead and hand us the tissues please because deciding whether or not to throw away something based on if they still bring us joy?! Ugh! PRECIOUS!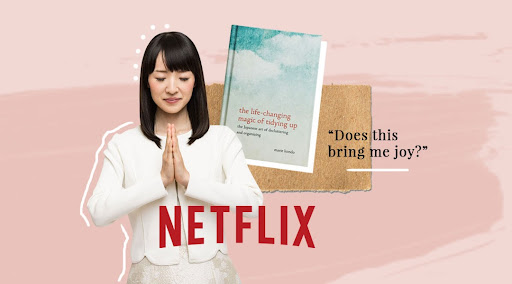 thriveglobal.com
2.
The Minimalists: Less is Now (Netflix)
Joshua Fields Millburn and Ryan Nicodemus are American authors, podcasters, filmmakers, and public speakers who encourage people to adopt a more minimalist lifestyle.
Less is Now is an insightful documentary about the personal, social and economic effects that consumption has on us and how minimalism can help us live better, fuller lives with less stuff. It's a great reminder for everyone to reflect on what they own and what they value, to throw out everything they don't need and to make room for the things that really matter!
Ready and willing to give minimalism a try? Take the 30 day minimalist challenge – find one item to get rid of on day one, find two things to get rid of on day two, three on day three and on and on for a full month! We know! We know! Easier said than done, right? But if a month is too big of a commitment, why not start with a week and see how you feel. Letting go of the things we have acquired and accumulated can be a painful process but it also allows us to make room in our lives for growth and new experiences! That in itself sounds worth it to us. Wouldn't you agree?
motcreative.com
  Get Organized with The Home Edit (Netflix)
If you're looking for a show to not only inspire you to declutter your space but one that also packs a bit of star power by way of various celebrities who need help with getting their homes organized and creating stunning spaces, look no further than Get Organized with The Home Edit! 
The show follows founders Clea Shearer and Joanna Teplin and features celebrities such as Reese Witherspoon, Khloe Kardashian, Eva Longoria and Neil Patrick Harris as well as everyday people as they organize different parts of their homes. Watch it for the wholesome changes they make to their clients' lives and if not for that, then for the reminder that celebs need help decluttering and tidying just like the rest of us… who would have thought?!
Also, if you're into the aesthetics of the clean as much as the act of cleaning itself, YOU ARE IN FOR A TREAT WITH THIS ONE! Think color coordination! Think rainbows! Think lots of different ways to use storage containers in visually appealing ways! 
One of the best things we like about this show is the idea of "creating zones" for specific things depending on their use. Clea and Joanna make sure zones are adapted to their client's lives and how things are used around their homes. Their clients don't have to adjust to the zones they create, the zones are created specifically to their clients' lives – making the habit of cleaning and organizing easier and sustainable for everyone! 
containerstore.com
4.
Do it On a Dime (YouTube)
Let's be honest… the idea of decluttering and getting organized can sometimes seem like it's going to cost an arm and a leg but, with the help of her YouTube channel – Doitonadime, Kathryn is on a mission to help people get organized without breaking the bank!
For all you IKEA KINGS and DOLLAR STORE DIVAS who love a budget-friendly DIY project – Do it On A Dime has plenty of choices and suggestions on how to get your home more organized.
With over 1.8 million subscribers and tonnes of videos to watch, it is a treasure trove for anyone looking for fun, creative and financially realistic solutions for your cleaning and organizing needs!
Doitonadimeblog.com
5.
Bea Organized (Amazon Prime)
Beatrice Copeland has been dubbed "The Millenial Martha Stewart". Yup! You read that correctly…. THE MILLENIAL MARTHA STEWART! No joke!
She is an award-winning writer, director, and producer, and home industry expert! She is serious business!
In this show, Bea helps people transform their spaces with innovative DIY hacks and organizing suggestions that practically anyone can apply to their lives. Some of her hacks are so simple and effective you'll find yourself wondering how you hadn't thought of them before! 
If being called the Millennial Martha Stewart or being a multi hyphenate boss lady extraordinaire does not impress you, watch this show if only for how nimbly Bea wields her power drill and gives people the spaces of their dreams! This woman is serious #GOALS!
amazon.com
Whether you're looking for inspiration to tackle all the stuff you've been accumulating in the attic or garage or you just plan on doing a little organizing and rearranging around the house, now's a great time to take cue from these shows and all the wisdom and entertainment they have to offer. Who said TV can't teach you anything?!?!